Today I explored a secret place, hidden in the backwoods of Central Florida, one of the grandest mansions of the Gilded Age. Zellwood is a small hamlet situated about five miles southeast of Mount Dora. I had gone there with a friend to explore the area where Byrd Spilman Dewey and her husband Fred had settled in 1882, before they had found their way to South Florida. It was a spur of the moment decision. We looked up the local historical society, and found their building at the local community hall.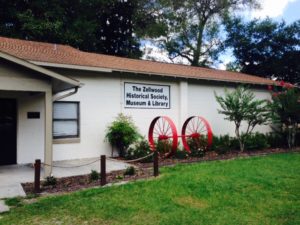 But no soul was around, and the building was locked tight. We peered through the front door and saw a few items in cases. We wanted to donate the book we had written about the Deweys, and a copy of Mrs. Dewey's 1899 bestseller Bruno, much of which is set in Zellwood.
Just then a car pulled up. We thought for sure someone had spotted us and was going to shoo us away from the building. But no. She was a member of the Zellwood Historical Society, and was meeting a group of 4th graders for a tour. She thought we were there for the tour too…but I said no, we were there to give them their history back, our book about the Deweys and a copy of Bruno. She was quite thrilled to receive the books. One of the things I wanted to find in Zellwood was a large mansion that was situated on a lake. I could not picture that a mansion could exist in such a small town. We asked the tour guide if she knew where the mansion on the lake was in town. After deciding she had the wrong day for the school tour, she said "Follow me, I'll take you to the mansion."
So we wound through some back country dirt roads past old and new houses, until we came to a small lake – and there was the mansion! A beautiful Mediterranean Revival mansion. Designed by storied architect Grosvenor Atterbury for James L. Laughlin, a Pittsburgh steel mill owner, Sydonie Mansion was completed in 1904.
The 22,000 square foot mansion features 42 rooms and was fashioned after the Alhambra Palace in Spain.
After passing through many hands, the mansion sat vacant from 1980 through 1997. The current owners purchased the house in 2014, and are in the process of restoration so that tours can be conducted and to host events such as weddings and gatherings. The Florida Historical Society has designated the mansion as one of the oldest and most important mansions in all of Florida.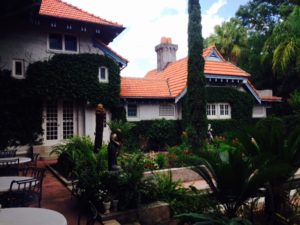 As far as our tour guide, she got a call. She had gone to the wrong location for the 4th grade class. The group met at the school, not at the historical society. But fate put her in the place she needed to be – to guide us to an amazing historical place, a hidden gem in the Central Florida woods.
Sydonie Web Site: www.sydoniemansion.com